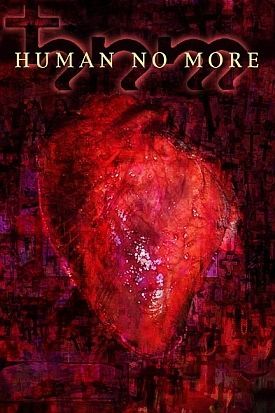 After viewing Christopher Alan Broadstone's earlier short movie My Skin! I had high expectations from Human No More, even though I had no idea what to expect.
Once again actor Tony Simmons takes the lead role, well the only role really, as Detective Nemo in this hallucinogenic short movie. And once again he is fantastic. The entire movie takes place in a dark and gloomy basement style room where Detective Nemo is listening to a tape of a murderer, the murderer that I assume killed his wife and child. The tape doesn't end on a happy note. After this Nemo sets up a camera and the proceeds to explain his disillusionment with society and life in general; his heart isn't in it any more.
Now, this may not seem like rivetting stuff but believe me it is thoroughly engrossing. Full of religious imagery, a demonic soundscape and dizzying camerawork, Human No More is a visceral viewing experience. Whilst not quite as good as My Skin! it still shows that Broadstone has a natural talent behind the camera. The movie, although fairly straightforward in content, asks the viewer to interpret the story in their own mind, which for me made the visuals even more disturbing.
Although not a particularly gruesome flick there is one scene that allows a fair amount of claret to be spilled, yet it is not done for shock value, but only to enhance and further the plot.
As I mentioned before Tony Simmons is fantastic once again in the lead role, and just goes to show how versatile an actor he is.
Human No More is a very good short movie and, although I prefer My Skin!, is still head and shoulders above many full length movies in terms of the acting, visuals and overall quality. I hope we get to see a feature length from Broadstone in the not too distant future.
Rating 3 stars (out of 4)
Review by Jude Felton
The complete trilogy entitle 3 Dead Girls can be purchased here
http://www.blackcabproductions.com/STORE.html